Ding Bats SAVE YOUR DOORS!
- SAFE & SCRATCH FREE magnetic attachment
- Set of 4 – One for every door
- Thick and Protective Ding and Dent Guards
- SAFE TO DRIVE with ATTACHED
- Hinged Design allows for compact storage
BUY Ding Bats
Patent Pending - Complete coverage rear bumper guard
"Finally Complete Coverage"
The first adjustable in length Complete Coverage rear bumper guard.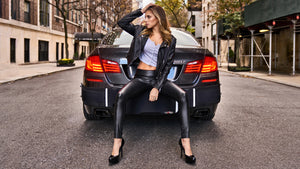 Testimonials
(COMPLETE COVERAGE REAR BUMPER GUARD)

Finally, true coverage

I recently purchased the bumper cover because I saw another auto with it and literally stopped the driver and asked about it.

I have been looking for something like this for a very long time. I had been using the Bumper Guard, which only protected the center of the bumper, leaving the sides exposed to careless drivers who don't care that they damaged your vehicle.

The Luv-Tap bumper cover, not only fits around the bumper but also looks good. Installation was not complicated, followed the instructions to the T. I was able to install it in under 15 minutes.

CasSandra
(BUMPER THUMPER)

The Bumper Thumper is build sturdier and a much better design. It is much more visible to law ...

I have been using bumpshox Xl's in our fleet. The Bumper Thumper is build sturdier and a much better design. It is much more visible to law enforcement and the new toll cameras in our area.

Quick Printer NY
(DING BATS)

Exactly what I am looking for! Perfect!

First off, This is a Verified purchase review.

I just got a new car and was looking for something to prevent dings and scratches to my new ride since of course many of us park in a complex or shared parking lot. I did a search on a whim and Voila! Ding Bats came up, and i couldn't beleive it.

Ordered these and they were perfect! exactly what i was looking for and gives me that sense of protection whenever i place it on. They have a soft cloth back so it will not hurt paint or scratch and they hold extremely well!

It has been raining so much in SoCal and cold at night, and these have held on strong, have not absorbed water and durable.

My girlfriend forgot these were on the car and drove with them on and they didn't drop off! Now that is a quality magnet.

Great product and customer service! Chen was very helpful with my questions.

Highly recommend it and A+!

Tommy H.